Maritime traffic routes interfere with the deep-diving cetaceans distribution in the Eastern Mediterranean Sea of Turkey.
The high intensity of maritime traffic that approaches the Turkish waters of the Eastern Mediterranean Sea becomes a threat to many of the deep-diving cetacean species, such as Sperm whales or Beaked whales, that inhabit the Mediterranean waters, causing the loss of their habits as well as direct damages by boat collissions.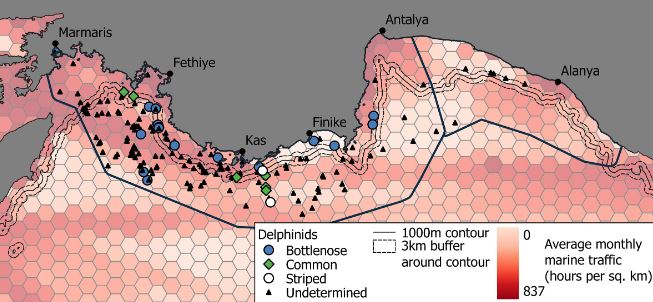 However, with this study, it has been discovered that small changes in shipping routes could drastically reduce these damages, providing a new opportunity to take action and reduce some of the anthropogenic impacts that threaten the conservation of these species.
Reference: Tim Awbery T., Akkaya A., Lyne P. , Rudd L. , Hoogenstrijd G., Nedelcu M., Kniha D., Akif M., Persad C., Amaha A., Öztürk B. (2022). Spatial Distribution and Encounter Rates of Delphinids and Deep Diving Cetaceans in the Eastern Mediterranean Sea of Turkey and the Extent of Overlap With Areas of Dense Marine Traffic. Frontiers in Marine Science.
https://doi.org/10.3389/fmars.2022.860242